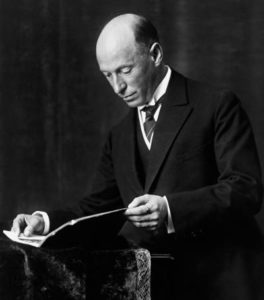 The common name of Abd-ru-shin, the author of the work "In the Light of Truth", was Oskar Ernst Bernhardt. He was German and was born on 18 April 1875 in Bischofswerda (near Dresden). The meaning of the name Abd-ru-shin, under which he wrote the lectures for his Grail Message, is analogous to "Servant of the Light".
In 1928, Oskar Ernst Bernhardt relocated to Austria, where he lived until the National Socialists confiscated his property and banned the work "In the Light of Truth".
Hindered from his activity Abd-ru-shin died on 6 December 1941 in Kipsdorf in the Saxonian Erz mountains, where he was forced to spend the last years of his life under Gestapo surveillance.
Oskar Ernst Bernhardt's childhood in Bischofswerda was happy. His schooling was followed by commercial training that he completed in Dresden.
Oskar Ernst Bernhardt travelled a lot as an independent merchant and later as the part owner of large export/import businesses. His experiences and impressions soon moved him to set aside his mercantile profession and to follow his inclination to write, and from 1907 to 1908 he worked solely as a writer. In addition to travel stories, novels and novellas, he enjoyed considerable success as a playwright.
A long stay in New York (1912/13) was followed by a study trip to England (London). There, the now 40-year-old German was imprisoned from 1915 until 1919 in the British detention camp on the "Isle of Man" following the outbreak of the First World War. His four-year imprisonment allowed him to experience the inner needs of men who could find no way out of the chaos of the collapsing old system of values. The wish arose within him to help through disseminating knowledge of decisive higher-order interconnections.
Thus, from 1923, Oskar Ernst Bernhardt began to publish lectures that addressed fundamental questions about life under the name Abd-ru-shin. The name Abd-ru-shin not only expressed what he had recognised and lived as his mission – to be a servant of the Light, it also built a bridge from his first, preparatory life on earth at the time of Moses, to being the mediator of the "Grail Message". The teaching of reincarnation is a central component of the work "In the Light of Truth".
In 1928, Abd-ru-shin settled at Vomperberg in Tyrol, close to Innsbruck, where he completed his Grail Message. However, in 1938, as Austria became "German", the Nazi regime banned its further dissemination. Abd-ru-shin was imprisoned and his possessions at Vomperberg confiscated.
After six months of oppressive detention in Innsbruck, he was forced to leave occupied Austria. Finally, he found accommodation in Kipsdorf in the Saxonian Erz mountains. At the same time, he was forbidden to be publicly active on his own behalf, or to receive visitors. The Gestapo subjected Abd-ru-shin to continuous surveillance and control.
Nevertheless, he spent the years of exile working: he revised the Grail Message into the "last authorised edition" and decided that only this edition should be available for further dissemination. However, the exile and isolation had their effects: Abd-ru-shin died on 6 December 1941 in Kipsdorf at only 66 years of age.